Ingredients:
8 eggs
1/4 c. milk
8 slices bacon
kosher salt
Freshly ground black pepper
2 tbsp. finely chopped chived
10 mini bagels, halved
4 tbsp. cream cheese, softened
1 1/2 c. shredded Cheddar cheese
3 tbsp. butter, melted
2 tsp. dried onion
2 tsp. granulated garlic
2 tsp. sesame seeds
2 tsp. poppy seeds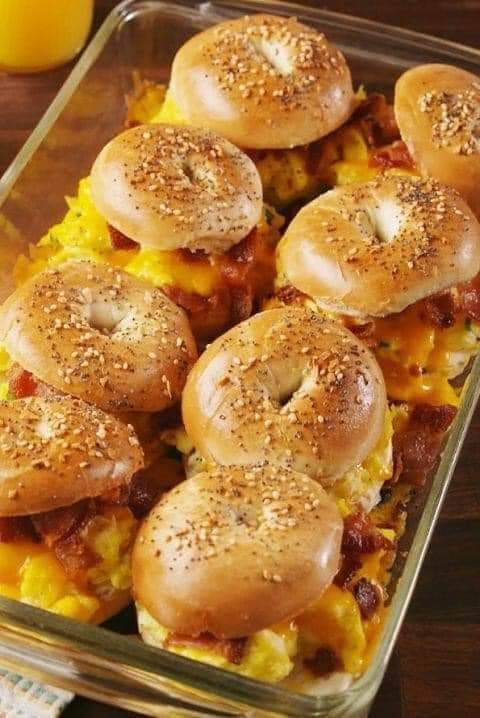 Directions:
Preheat oven to 350° and grease a large baking dish with cooking spray. In a large bowl, beat eggs and milk until light and frothy. Set aside.
In a large skillet over medium heat, cook bacon until crispy. Remove slices from pan to drain on paper towels. Pour out most of bacon fat but leave about 1 tablespoon in the skillet.
Pour egg mixture in skillet then immediately turn down heat to medium-low. Stir occasionally with a spatula or wooden spoon. When the eggs are nearly set, season with salt and pepper and stir in chives. Remove from heat.
Spread cream cheese onto the bottom halves of the bagels then place in greased baking dish, side by side. Spread egg mixture over bagels then crumble cooked bacon on top. Sprinkle with cheddar then add the bagel tops. Brush with bagel tops with melted butter and sprinkle with dried onion, granulated garlic, sesame seeds, and poppy seeds.
Bake until the bagels are toasty and the cheese has melted, about 10 minutes. Serve warm.