Butter Pecan Cake is a perfect cake for the holidays! It's brimming with buttery pecan flavor, it has a soft and tender crumb and it's a perfectly moist cake (because dry cakes are the worst). It's a recipe you'll definitely want to add to the recipe box!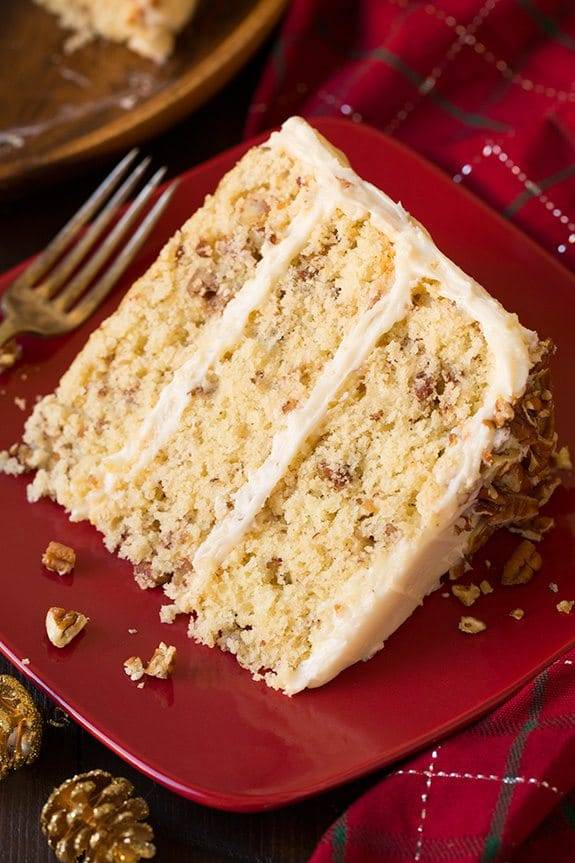 Butter Pecan Cake
You will want to savor each and every bite of this cake! Not only is the cake itself perfectly delicious but it's coated with a luscious cream cheese frosting because cream cheese frosting is simply the best.
I love how the cream cheese balances out the sweetness of the cake as well as the buttermilk that's blended into the batter. They also just add more depth of flavor so you're cake will be anything but boring.
Butter Pecan Cake
The best butter pecan cake recipe! It's brimming with a rich buttery flavor and swirled with plenty of pecans. It's moist and sweet and a perfectly tempting cake fit for any occasion!
Ingredients
2 cups (204g) Fishers Pecan Halves, chopped into small bits
3 Tbsp (42g) unsalted butter, diced into 3 pieces
3 cups (424g) of all-purpose flour
2 tsp baking powder
1/2 tsp baking soda
1/2 tsp salt
1 cup (226g) unsalted butter, softened
1 3/4 cup (375g) granulated sugar
4 large eggs
1 1/2 tsp vanilla extract
1 cup (235ml) buttermilk
1/2 cup (120ml) milk
Cream Cheese Frosting
1 cup (226g) butter*, nearly at room temperature
12 oz cream cheese, nearly at room temperature
1 tsp vanilla extract
5 cups (620g) powdered sugar
1/2 cup (56g) Fishers Pecan Halves, chopped, for topping
Instructions
Preheat oven, prepare cake pans: Preheat oven to 350 degrees. Butter and line 3 9-inch round cake pans with parchment paper, butter parchment paper and lightly dust pans with flour shaking out excess. Set pans aside.
Saute pecans in butter: Melt 3 Tbsp butter in a skillet over medium heat. Once melted add pecans and cook until slightly browned and fragrant, tossing frequently, about 4 minutes. Pour and spread onto a sheet of parchment paper or a baking sheet. Set aside and allow to cool.
Mix liquids together: stir together buttermilk and milk, set aside.
Whisk dry ingredients: In a mixing bowl whisk together flour, baking powder, baking soda and salt for 20 seconds, set aside. 
Cream butter and sugar, then eggs and vanilla: In the bowl of an electric stand mixer fitted with the paddle attachment whip together butter and sugar until very pale and fluffy. Mix in eggs one at a time adding in vanilla with last egg. 
Mix in flour alternating with milk mixture: Add 1/3 of the flour mixture to the butter mixture and mix on low speed just until combined, then add in 1/2 of the buttermilk mixture and mix just until combined then repeat process once more. Finish by mixing in remaining 1/3 of the flour mixture and mix just until nearly combined. 
Fold in pecans: Remove bowl from stand mixer and fold in pecans (fold batter until there's not longer streaks in the batter). Divide batter evenly among prepared baking pans. 
Bake until set: Bake in preheated oven 23 – 28 minutes until toothpick inserted into center of cake comes out clean. Remove from oven and cool in cake pans 10 minutes.  
Let cake cool completely on wire rack: Run a knife around edges of cake to ensure the are loosened and invert onto wire racks to cool completely. Once cool frost with cream cheese frosting and top with pecans. 
For the cream cheese frosting: In the bowl of an electric stand mixer fitted with the paddle attachment whip together butter and cream cheese until smooth. Mix in vanilla and powdered sugar and blend until smooth and fluffy.
Notes
I like to use 1/2 cup salted 1/2 cup unsalted butter for the frosting.
Since there's a cream cheese frosting I recommend storing the cake in refrigerator in an airtight container. If fully chilled allow to rest at room temperature about 20 – 30 minutes before serving.