Cajun cabbage jambalaya is a skillet meal you will make over and over again.  My family loves cabbage and this Cajun cabbage is one of their favorites.  I made this in a ten inch iron skillet but you can use any large skillet.  We love this meal for weeknights when you need something quick and easy or any time you just want a great comfort food meal.  I serve this with my recipe for sweet cornbread muffins and there is very little left over.  Cajun cabbage keeps well for several days in the fridge and can be reheated.  We love anything with cabbage at my house!  You could also use chicken, shrimp or hamburger in this recipe.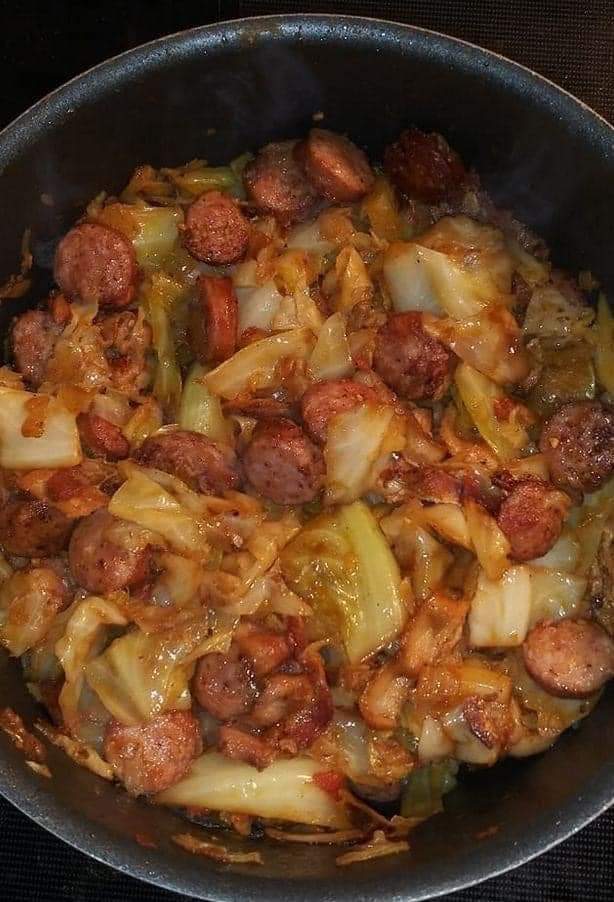 Rice or rice of your choice
You could easily make this "lighter" by replacing the pork sausage with turkey sausage and the smoked sausage with turkey smoked sausage. We love the cajun seasoning in this dish and it really helps to make this dish pop! If you have followed our site for any amount of time you know we love easy skillet dishes. Love this comment:
"This is fabulous; I'm on my second plate of it right now. I forgot to get pork sausage at the store so I just used a pound of the smoked sausage instead; similarly added an extra bell pepper because, really, is there ever too much bell pepper? I used Tony Chachere's Original Creole seasoning and the finished product has so much flavor! This recipe definitely goes to the top of my list for quick, easy and delicious!"
Cajun Cabbage Jambalaya
This Cajun Cabbage Jambalaya made in a skillet is wonderful and easy! Perfect to make on a busy night and the flavors are great.
Ingredients
1/2 pound pork sausage
1/2 pound smoked sausage cut into rounds
1 medium onion chopped
1 medium green pepper cut up
2 celery stalked chopped
1 clove garlic chopped
1 14.5 ounce can diced tomatoes
1 14.5 ounce can chicken broth
2 to 3 cups chopped cabbage
1/2 teaspoon salt
1/2 teaspoon black pepper
1 teaspoon Cajun seasoning
1/2 cup long grain rice or rice of your choice
Instructions
Brown pork sausage, smoked sausage, onion, green pepper, celery and garlic in skillet until sausage is done.
Stir in diced tomatoes, chicken broth, cabbage. Add salt, black pepper and Cajun seasoning along with rice and set simmer uncovered for 35 to 40 minutes until rice and cabbage is cooked. Makes about 8 servings.