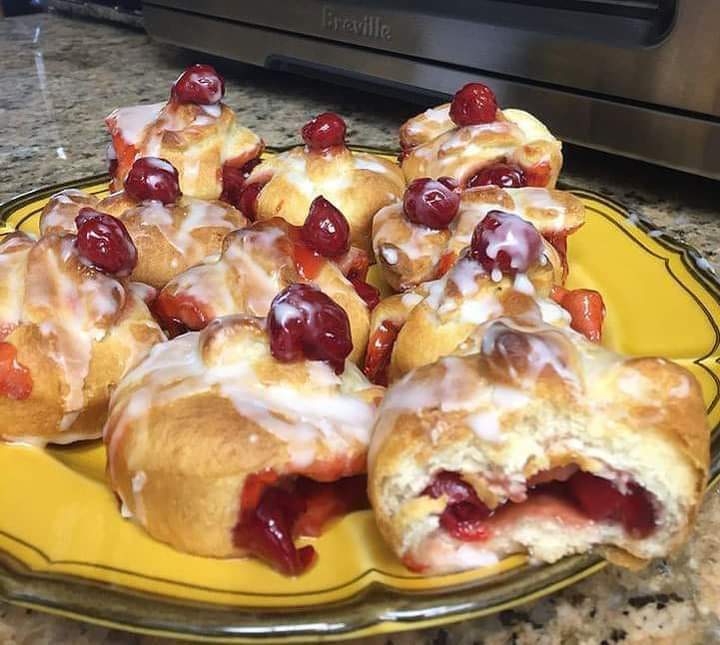 These super delicious Cherry Pie Bites are so super simple. Since they are made with store bought crescent rolls, they can be made in a jiffy. Perfect for breakfast or even dessert.
Since these were so easy, I had them in the oven within a few minutes time. I love everything quick and easy and these meet both of those qualifications. The red cherries are so super colorful. The glaze makes them a bit decadent looking. PERFECT.
All that is needed to make these muffin tin Cherry Pies is some store bought crescents, cherry pie filling, confectioners sugar, and a splash of milk. Perfect for making for a large crowd at holiday times too!
Ingredients:
2 can Cresent Roll Dough
21 oz Cherry Pie Filling
1 cup Powdered Sugar
1-2 tbsp Milk
Methods:
Preheat oven to 375.
Spray muffin pan with cooking spray.
Unroll and separate dough.
Place one triangle into each cup and fill with a tablespoon of pie filling.
Fold 2 shorter ends together on the top and pull longer end over those.
Bake for 13-15 minutes or until lightly browned.
Set aside to cool.
Whisk together powdered sugar and milk until smooth.
Transfer cooled bites to wore rack and drizzle with glaze mixture.