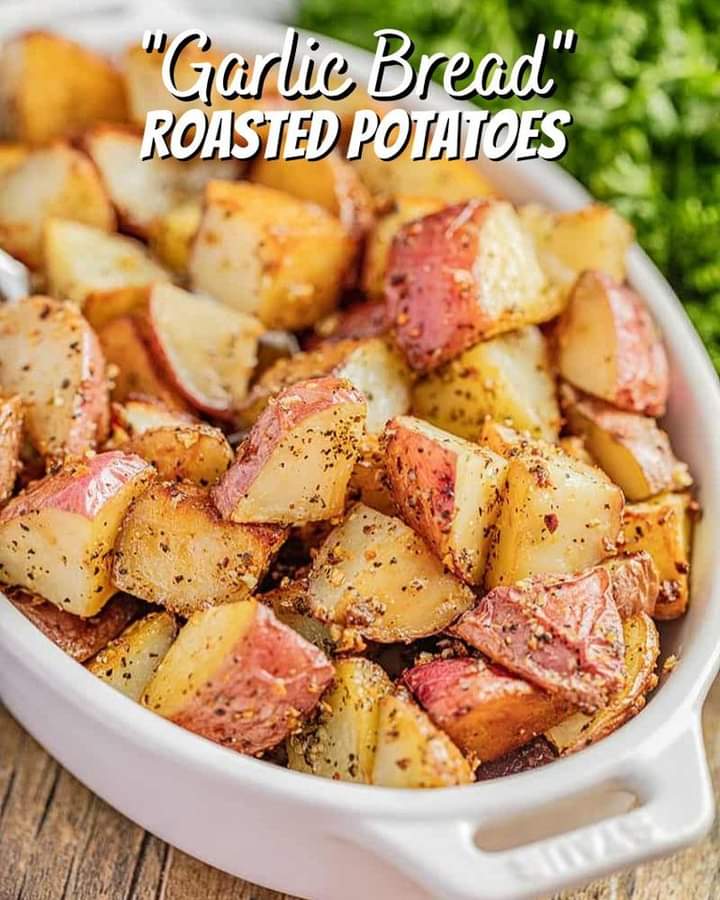 "Garlic Bread" Roasted Potatoes have all the flavors of garlic bread you love, in an easy roasted potato dish. Easy and delicious!
An overhead view of a sheet pan filled with roasted potatoes.
Whenever we make garlic bread for guests, they simply can't stop raving about it. Ultimate Garlic Bread Recipe, anyone? It is always gobbled up, no matter who we make it for! Some people even refer to it as "crack" bread. So, we took all of our favorite flavors in garlic bread to create these amazing garlic bread roasted potatoes. You are seriously going to love them!
Now, we actually don't eat potatoes very often in our house. Our family lives in Idaho (land of the potato) so it seems a bit ironic that we don't eat them very often. The kids are often hesitant to eat them so we came up with this recipe because we knew it would be something they'd love. When it tastes just like garlic bread, who could resist?
INGREDIENTS
8 medium-sized potatoes yukon gold and red work well
2 tablespoons olive oil
salt and pepper
4 tablespoons butter
5 cloves garlic
1 tsp dried basil
1/2 tsp oregano
1/2 cup shredded fresh parmesan cheese

INSTRUCTIONS
Preheat oven to 400 degrees. Scrub the potatoes clean and cut them into bite-sized chunks.
Spread the potatoes out on a baking sheet. Drizzle them with 2 tablespoons olive oil and season with salt and pepper. Bake in the preheated oven for 30 minutes.
Prepare a garlic butter compound by combining the butter, garlic cloves, basil, and oregano in a food processor until everything is pureed and a bit whipped.
After 30 minutes of roasting, remove the potatoes from the oven and top with the butter compound. Stir so that they all get coated. Put them back in the oven for another 15 minutes.
Check on them and if they are done, top them with the parmesan cheese and put them back in the oven for another 5 minutes to let the cheese melt a bit. Your actual cooking time will depend on your potato variety and how big of pieces you cut them into. Serve hot.

Nutrition
Calories: 277kcal | Carbohydrates: 36g | Protein: 7g | Fat: 12g | Saturated Fat: 5g | Cholesterol: 20mg | Sodium: 95mg | Potassium: 1182mg | Fiber: 7g | Vitamin A: 235IU | Vitamin C: 33.2mg | Calcium: 95mg | Iron: 9.4mg