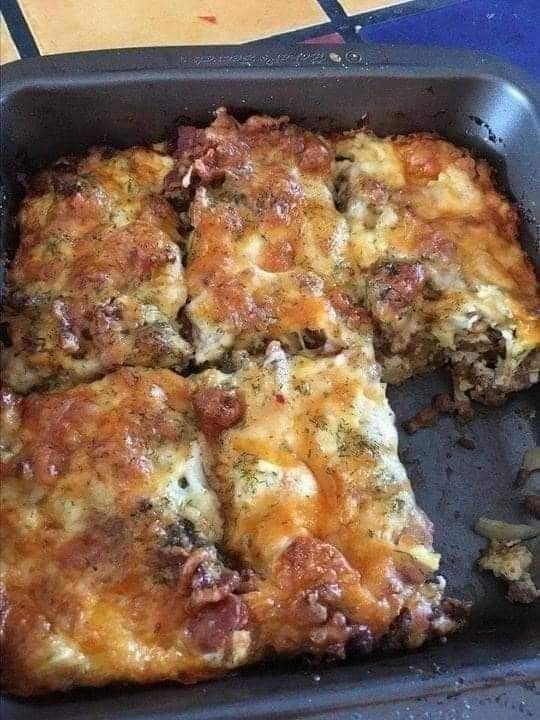 This is the BEST cheesy keto cheeseburger casserole you'll ever make, with a secret cheat's cheese sauce.
It's delicious healthy comfort food that tastes just like a cheeseburger, just without the hamburger bun and the french fries.
This easy keto cheeseburger casserole recipe is quick to make with plenty of shredded cheddar cheese, bacon, cream cheese, and ground beef.
Low-Carb Bacon Cheeseburger Casserole
Ingredients
2 pounds ground beef
2 cloves garlic, minced
½ teaspoon onion powder
1 pound cooked bacon, cut into pieces
8 eggs
1 cup heavy whipping cream
½ teaspoon salt
¼ teaspoon ground black pepper
1 (12 ounce) package shredded Cheddar cheese, divided
How To Make Low-Carb Bacon Cheeseburger Casserole
Preheat the oven to 350 degrees F (175 degrees C).
Heat a large skillet over medium-high heat. Cook and stir beef with garlic and onion powder until browned and crumbly, 5 to 7 minutes. Drain and discard grease.
Spread beef onto the bottom of a 9×13-inch casserole pan. Stir in bacon pieces.
Whisk eggs, heavy cream, salt, and pepper in a medium bowl until well combined. Stir in 8 ounces Cheddar cheese.
Pour egg mixture over the beef and bacon. Top with the remaining 4 ounces cheese.
Bake in the preheated oven until golden brown on top, 30 to 35 minutes.