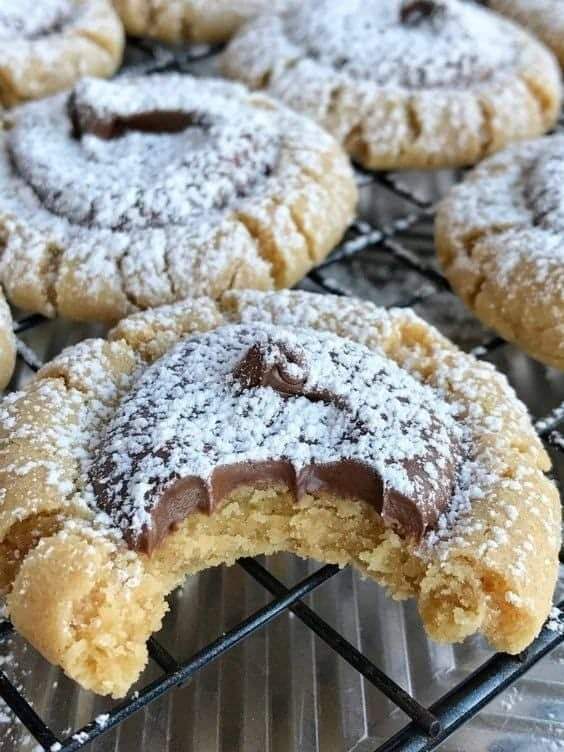 This delicious, easy bake cookie features a milk chocolate center around a soft-bake peanut butter shell and then dipped in powdered sugar. It's the ultimate combination of flavors for a special treat.
Got a sugary tooth, or just searching for the perfect dessert to quench your sweet cravings? Then look no further than these muddy buddy cookies. These cookies feature the absolute best combination of flavors to give you a treat that you will forever love!
Muddy buddy cookies feature a soft-baked, thick peanut butter cookie with crinkly edges and a smooth milk chocolate center. This core is then dipped in powdered sugar and served with a warm glass of milk or any other drink of your choice. This cake is like the most addicting thing ever, but it's an addiction that you'd love.
Planning a holiday with friends and family, or a picnic or just a random outing with friends, then these cookies are your go-to to guarantee a doof time. Or you could just make them at home and give yourself a treat. They've become a favorite in my household since last October when I first made them – my kids are always demanding that I make them this cookie. Trust me, I'm much obliged.
The good thing with this cookie is that it's so simple to make. Besides the cooling time needed between each layer, there's nothing cumbersome about making these cookies. Just follow the steps outlined and in no time, you'd be ready to join the list of muddy buddy addicts.
Prep time: 20 mins
Cook time: 8 mins
Cooling time: 1 hr
Total time: 1 hr 28 mins
Servings: 24 cookies
Ingredients
Peanut Butter Cookies
1/2 cup (1 stick) butter softened
1/2 cup creamy peanut butter
1/2 cup granulated sugar
1/2 cup light brown sugar
1 large egg
1½ cups all-purpose flour
¾ teaspoon baking powder
¼ teaspoon baking soda
Milk Chocolate Center
1 cup milk chocolate chips
½ teaspoon canola or vegetable oil
1/2 cup powdered sugar
How to Prepare
Step 1:
Preheat the oven to 375 degrees. Prepare a cookie sheet by lining it with parchment paper or spraying with cooking spray.
To Make the Peanut Butter Cookies
Step 2:
Using a handheld blender, blend together the butter, peanut butter, sugar, and brown sugar for about 2 minutes until creamy and light in color. Add in the egg and beat to combine.
Step 3:
In a small bowl, add the flour, baking soda, and baking powder. Stir with a wire whisk. Add this mix to the wet ingredients and beat on low speed until properly combined.
Step 4:
Take about 1 tablespoon of dough and roll into a ball. Make 12 dough balls and place them onto the cookie sheet, then bake for 8 minutes.
Step 5:
Immediately after baking, take a small flat-bottomed cup and gently press down on the cookie. This will flatten them as well as give those crinkly edges. Let cookies cool completely for about an hour on the cookie sheet.
To Make the Milk Chocolate Center
Step 6:
Melt chocolate chips and canola oil in a microwave-safe bowl for about 2 minutes, stirring every 30 seconds.
Step 7:
Once melted, use a spoon to scoop a small amount of the chocolates and place onto the center of each cookie, spreading it gently
Step 8:
Place the cookies in the refrigerator for about 15 minutes so that the chocolate sets and cools completely.
Step 9:
Remove the cookies from the refrigerator and then dust in powdered sugar.
Step 10:
Serve cookies immediately, or store at room temperature till it's time to serve.
Tips
Do not use all-natural peanut butter. It will make these cookies, and any baked goods, really dry and crumbly. Use the real peanut butter with the oil and fat, and sugar! It's much better for cookie recipes.
Don't press down too hard when you press the cookies out of the oven. Depending on how thin or thick you want your cookies is how hard you should press