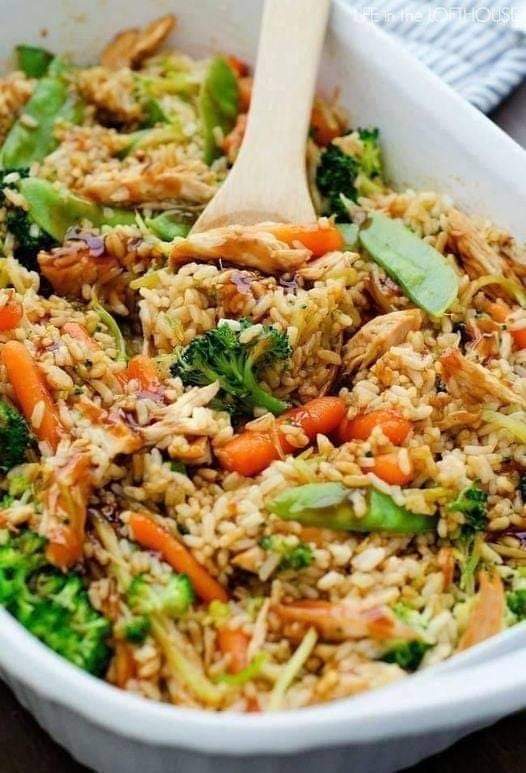 Do you enjoy one-pan meals? What about casseroles? I know exactly that! MOST PEOPLE ENJOY CASSEROLES. This Chicken Teriyaki Casserole is just A GREAT RECIPE FOR A DELICIOUS DINNER!!
This is my new recipe reference. The night before, you should prepare it, put it in the fridge and serve it the next day. Even the picky eaters will come back for more! It's so delicious!
Baked Teriyaki Chicken Casserole is a dump and bake meal that needs no pre-cooking of ingredients. The simplest dinner to put together- Only add it all together, top it with chicken and teriyaki sauce, bake and enjoy it! This is one weeknight dinner meal that gets a thumbs up from the whole family.To Make this Recipe You' Will Need the following ingredients:
Ingredients:
700g (25oz) chicken breasts, bones and skin removed
1 package frozen mixed vegetables
3 cups cooked brown rice
1 cup canned pineapple tidbits
1 cup low sodium soy sauce
1/2 cup water
1/3 cup packed brown sugar
2 tablespoons corn starch
2 tablespoons warm water
1 tablespoon honey
2 teaspoons extra virgin olive oil
1 teaspoon ginger powder
1/2 teaspoon minced garlic
Preparation:
Your oven should be preheated to 350 degrees F.
Put the soy sauce, water, brown sugar, ginger, butter, olive oil, and garlic in a large casserole. Simmer over low heat and cover.
Remove the cover and simmer for an additional 2 minutes until it boils.
In a separate bowl, mix corn starch and 2 tablespoons of warm water until creamy to form a slurry.
Return the slurry to the casserole once the sauce has melted. Stir to blend and cook until the sauce thickens.
Place raw chicken breasts flat in a baking dish and pour a cup of sauce over them.
Preheat the oven and cook the chicken for 30 to 35 minutes until done.
Remove the dish from the oven and slice the chicken onto plates using two forks.
While the chicken cooks, boil frozen vegetables according to package instructions.
Add sliced chicken, vegetables, canned pineapple, and cooked rice to a casserole dish.
Add most of the remaining sauce, reserving some for drizzling.
Stir all ingredients together in the casserole dish until well blended.
Place the dish back in the oven and cook for around 15 minutes.
Top with the remaining sauce and serve warm.