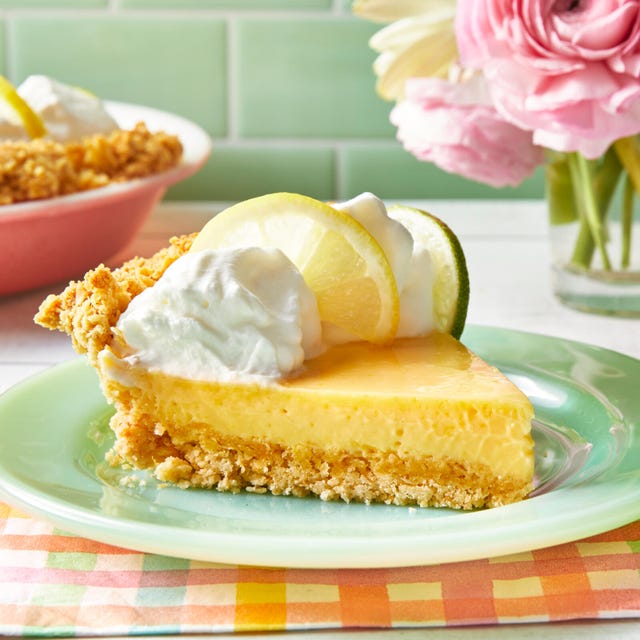 A delicious cousin of classic key lime pie and lemon icebox pie, Atlantic Beach Pie is a lemon dessert that deserves a spot on your must-make list. With its zippy citrus filling, billowy whipped cream topping, and extra thick and crunchy cracker crust, it's one of the easiest make-and-chill pie recipes out there.
Why is it called Atlantic Beach Pie?
Atlantic Beach Pie owes its popularity to Bill Smith, the owner of the former Crook's Corner restaurant in Chapel Hill, North Carolina. He was inspired by his childhood trips to the Atlantic beaches of North Carolina to create this easy pie with its distinctive crumbly, saltine cracker crust.
Why does it have a cracker crust?
Many icebox pie recipes call for graham cracker crusts, but this saltine cracker crust probably owes its existence to leaner times when sugar was too expensive or scarce. Though it may sound strange at first, one bite and you'll be hooked on the sweet-and-salty crunch!
Can I use bottled lemon and lime juice for Atlantic Beach Pie?
If bottled juice is the only thing on hand, it will do in this recipe. However, for the absolute best Atlantic Beach Pie, it's worth the extra effort to squeeze the juice fresh. The flavor is more zippy, sweet, and vibrant, making the finished pie so much more delicious.
Ingredients
1 1/2 sleeves saltine crackers
1/2 cup unsalted butter
1/4 cup granulated sugar
1 14 oz.-can sweetened condensed milk
4 large egg yolks
1/4 cup lemon juice
1/4 cup lime juice
2 cup whipped cream
Lemon and lime slices
Directions

Preheat oven to 350°.
For the crust: Coarsely crush the crackers (you should end up with about 2 1/4 cups). Combine crushed crackers, butter, and sugar in a medium bowl. Stir until well combined and the crumbs hold together when pressed with your fingers. Press the crust mixture into the bottom and up the sides of a 9-inch pie pan. Freeze the crust for 10 minutes. Bake the crust on the middle rack of the oven for 20-25 minutes or until golden brown. Set the crust aside to cool slightly, about 10 minutes.
For the filling: Whisk together the sweetened condensed milk, egg yolks, lemon juice, and lime juice until smooth. Pour the filling into the baked crust. Return the pie to the oven and bake until the center of the filling is just set, about 15 minutes. Cool the pie on a wire rack at room temperature for 1 hour, then refrigerate until cold, at least 2 hours or up to overnight.
Top the pie with whipped cream (or whipped topping) and citrus slices just before serving.