This easy-to-make Garlic Parmesan Roasted Brussel Sprouts recipe is a delicious side dish made with lemon, Parmesan cheese, extra virgin olive oil, and lots of garlic. 
These days I'm all about cooking easy recipes like this Garlic Parmesan Roasted Brussel Sprouts recipe. I guess you all agree with me that we don't want/like to spend hours in the kitchen when we have lots of things to do aside of cooking for our families.
Our weeknight dinners have been us eating roasted/baked/grilled chicken or fish with some veggies. It doesn't get easier than that. Agreed? So, because my husband loves Brussel sprouts (and I learned to like them because of him), we always buy them and roast them with a good amount of olive oil and lots, lots, lots of Parmesan cheese.
It takes this Garlic Parmesan Roasted Brussel Sprouts recipe to another level. I also love to roast any green veggie with lemon juice. Mm… A yummy, easy, and quick recipe. It's definitely a winning side dish!
If you've got a ton of Brussels sprouts, then you need to try out my Brussels Sprouts Casserole Recipe (Web Story), Parmesan Brussels Sprouts Salad, Sausage with Brussels Sprouts Skillet, and Roasted Brussels Sprouts Quinoa Salad! They're so tasty and are also perfect for simple weeknight dinners when you're tired.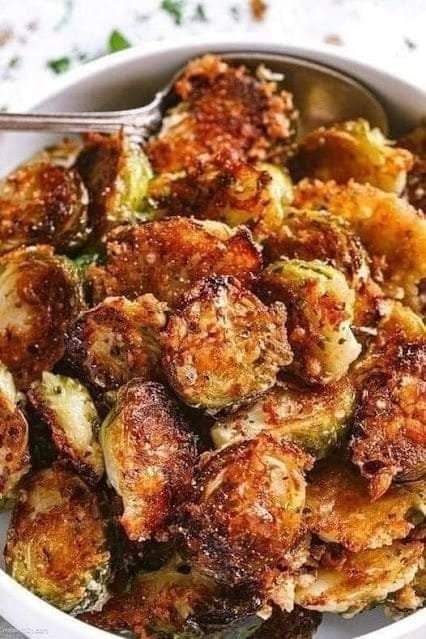 Do I Need To Wash Brussel Sprouts?
Yes, you need to wash Brussel sprouts because many times they come full of dust or dirt. To clean them, rinse them in cold water for 30 seconds or until they are completely clean.
How Long Do You Roast Brussel Sprouts?
It depends on the size of your Brussel sprouts and the power of your oven. But roughly, if you roast Brussel sprouts in the oven at 400°F, you will bake them for 20-30 minutes.
They are ready to eat when the Brussel sprouts are lightly charred, toasted on the bottom, crisp on the outside, and tender on the inside. Also, it's very possible that the leaves that are loose will be very brown and crispy.
How Do You Prepare Brussel Sprouts For Roasting?
First, rinse the Brussel sprouts in cold water.
Using a sharp knife, trim or cut off the tough brown ends of the Brussel sprouts, and discard them.
Pull off any outer leaves that are yellow. If some green leaves happen to fall off, save them to roast with the Brussel sprouts.
Cut each sprout in half lengthwise.
Ingredients You Need To Make Garlic Parmesan Brussels Sprouts
Brussel sprouts — When you pick Brussels sprouts, make sure they are firm, green, and blemish-free. If the sprouts are loose or have yellow leaves, they are past their prime. Brussels sprouts are in season from October through March but you can usually find them at your local grocer year-round.
Extra virgin olive oil — I like roasting my Brussels sprouts with olive oil but you can use whatever neutral oil you'd like. Avocado oil is another great option. You can also use melted butter.
Garlic — I highly recommend using fresh garlic for the best flavour. It's soooo much more flavourful and is worth the effort to mince the garlic.
Lemon juice — Again, fresh lemon juice is the best way to brighten up the roasted Brussels sprouts. You want the bright, fresh flavours of freshly squeezed lemon juice. Bottled lemon juice does not have the same bright taste. If you don't like citrus flavor, you can use balsamic vinegar instead.
Salt and pepper — A bit for seasoning. I love freshly cracked pepper as it's more flavourful than pre-ground pepper from a bottle.
Parmesan cheese — Shaving your own Parmesan cheese is my go-to! The pre-shredded cheese tends to have preservatives to keep the cheese from clumping so I prefer to grate it myself. Grating the parmesan has a fresher, creamier taste.
How To Make Roasted Brussels Sprouts:
Add the sprouts to a bowl and season them with extra virgin olive oil, garlic, lemon juice, salt, and pepper.
Toss them really well, and place them on your baking sheet. You can use parchment paper, but I normally don't use it. Now, the Brussel sprouts are ready to roast.
Don't forget to toss them once halfway through baking.
3 Quick Tips To Make The Perfect Garlic Parmesan Roasted Brussel Sprouts:
Preheat your oven before adding the Brussel sprouts. It helps them become crispy.
Don't be afraid to use lots of olive oil. It adds more flavor and it makes the Brussels less dry.
Place them in one single layer on the baking sheet with the cut-side-down. This step is important to avoid them becoming soggy.
For this recipe, the only work you have is to clean and cut the Brussel sprouts. This recipe is done in a few minutes and tastes delicious! It goes really well with roasted chicken or a delicious fish recipe and some fluffy rice.
Enjoy!
How To Clean And Trim Brussels Sprouts
Cut off the stem end.
While they may look (and taste) like mini cabbages, they do not need to be cored. The core holds them together while roasting.
After trimming the ends, you can clean them in a bowl of cold water. Any sediment left in the sprouts will sink to the bottom.
You can leave them whole, or if they are large, half or quarter them. Just be sure they are similar in size so they cook evenly.
Remove and discard any discolored outer leaves.
More Tips For The Best Brussels Sprouts
Make sure you are cutting the Brussels sprouts as evenly as possible. Sometimes it's difficult as some sprouts are smaller than the rest. Simply keep an eye on them in the oven and use tongs to remove the ones that are browning quickly.
If you are purchasing the Brussels sprouts in advance, to keep them fresh, store them unwashed, and untrimmed in a plastic bag in the vegetable crisper drawer of the fridge.
Do not overpack the sprouts on the sheet pan. If they are too close together, they will steam instead of roast.
I like adding more Parmesan cheese right before serving so it doesn't all completely melt into the warm Brussels sprouts. There's no such thing as too much Parmesan cheese.
If you want the Brussels sprouts to be a little bit browned, you can turn the broiler on high for the final 3 minutes and broil it. Keep a close eye on it, so that it does not burn.
Additional vegetables can be added as well! Just be sure to adjust the size of your pan if you plan on adding more vegetables.
After washing the Brussels sprouts, make sure to pat them completely dry so the olive oil will coat the sprouts better and crisp up.
How To Store Brussels Sprouts
If you have any of the delicious garlic Parmesan roasted Brussels sprouts leftover, store them in the refrigerator for up to 4 days.
I recommend reheating them in the oven. They will only take ten to twelve minutes at 350F to warm through as this keeps them crispier than microwaving them.
I don't recommend freezing the roasted Brussels sprouts as they can become soggy when thawed. If you really would like to freeze this, allow the sprouts to fully cool before transferring them to an airtight freezer-safe container or bag. You can thaw and reheat them in the oven to try and keep them crispy.
Recipe Variations
Add a drizzle of honey to make these Brussels sprouts sweeter.
Sprinkle a pinch of red chili flakes to add some heat to the sprouts.
Mix brown sugar with olive oil for a deeper sweet taste.
Fresh herbs are always a delicious addition to any recipe. Some fresh thyme, rosemary, or sage add a tasty layer of flavor to the sprouts.
More Brussel Sprouts Recipes To Try:
Easy Baked Chicken with Brussels Sprouts: Loaded with flavor, this baked chicken with Brussels sprouts is the perfect dinner recipe for a busy weeknight.
Pomegranate Glazed Brussels Sprouts: Quickly roasted in the oven then tossed in a 2-ingredient Pomegranate glaze, this pomegranate glazed Brussels sprouts recipe is so quick and easy.
Parmesan Brussels Sprouts Salad: Simple but delicious, this Brussels sprouts salad comes together with a few simple ingredients.
Brussels Sprouts Casserole Recipe: You will love this low-carb Brussels sprouts casserole! Each bite is filled with Brussels sprouts and cheesy goodness!
Garlic Parmesan Roasted Brussel Sprouts
This easy-to-make Garlic Parmesan Roasted Brussel Sprouts recipe is a delicious side dish made with lemon, Parmesan cheese, olive oil, and lots of garlic.
Ingredients
▢1 pound Brussel sprouts end trimmed and cut in half
▢4 cloves garlic minced
▢2 teaspoons fresh lemon juice
▢salt and black pepper
▢½ cup freshly grated Parmesan cheese
Instructions
Preheat oven to 400ºF.
In a large bowl, add the Brussel sprouts, olive oil, garlic, lemon juice, salt, and pepper.
Mix everything to combine well.
Spread the Brussel sprouts mixture onto a baking sheet in an even layer with the cut-side-down.
Don't forget to toss them once halfway through baking.
Bake them for about 25 minutes or until the Brussel sprouts are golden brown on the edges.
Before serving, top with Parmesan cheese.
Tips
If you like Brussel sprouts, you'll love this list of Brussel sprouts recipes that are great as side dishes. I also have a long list of delicious and healthy side dishes here. You'll find a variety of great veggie side dishes, such as mashed cauliflower, cauliflower rice,  roasted veggies, roasted asparagus, green beans, and salads.
For more browned and crispy Brussels sprouts, you can broil them for a few minutes at the end.
Make sure you spread out the sprouts on the sheet pan so they crisp up. Too close and they'll steam.
To store: Leftover Brussels sprouts in an airtight container for up to 4 days once they've cooled to room temperature.
To reheat: Reheat leftovers in the oven so they stay crispy.
Nutrition Information
Serving: 1/4 Calories: 268kcal (13%) Carbohydrates: 14g (5%) Protein: 17g (34%) Fat: 18g (28%) Saturated Fat: 7g (44%) Polyunsaturated Fat: 2g Monounsaturated Fat: 8g Fiber: 5g (21%) Sugar: 2g (2%)
sprouts are ready to roast.