When lockdown started a few months ago I focused on buying vegetables that would last a long time in my fridge or pantry so I could continue to eat a well rounded plate without having to go to the grocery store often. Collard greens are one of the first things I bought. They hold up well in the fridge, they're inexpensive, and I just loooooove them! When I made that first pot of collard greens I looked in my pantry for something to season them with and pulled out a bottle of jerk seasoning on a whim. I couldn't believe how incredible the flavors were together, and I knew that these Jerk Seasoned Collard Greens were something I was going to need to share on the blog.
Interesting in knowing what other fruits and vegetables last a long time? Check out my round up of Long Lasting Produce to Stock Up on During Isolation (including recipes ideas for each)!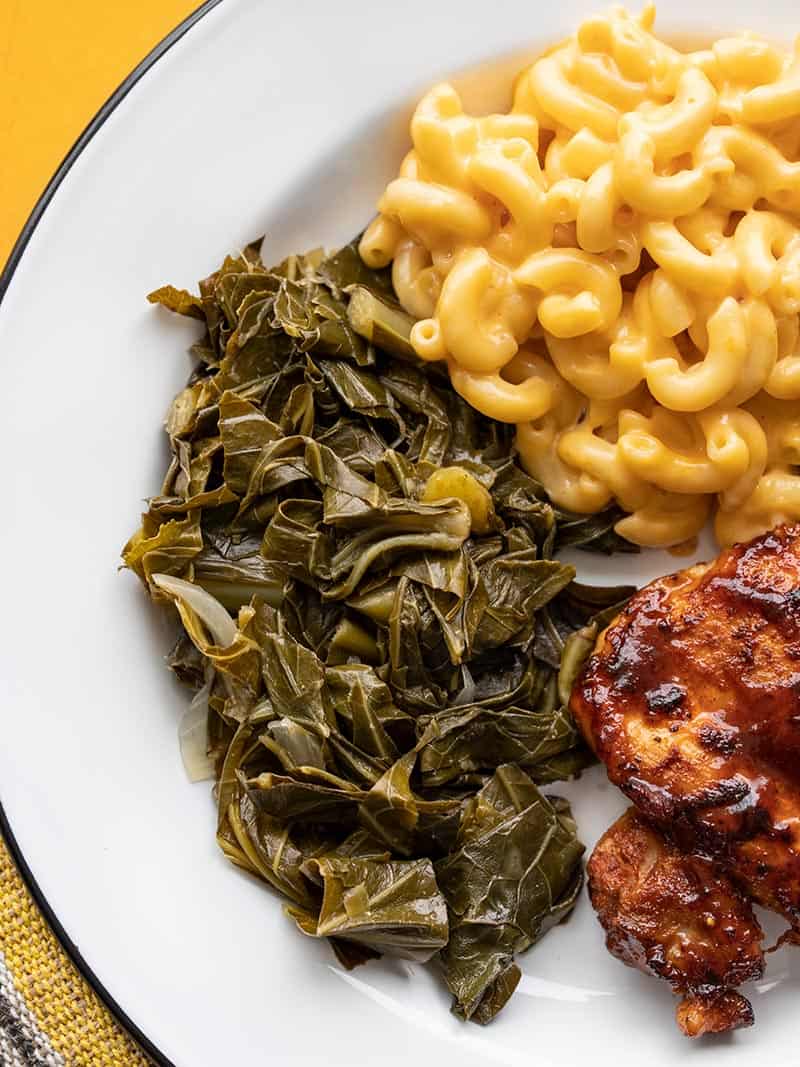 WHAT IS JERK SEASONING?
If you've never heard of Jerk seasoning, it's an amazing spicy, sweet, and savory blend of herbs and spices used for jerk style cooking in Jamaica. Jerk marinades usually consist of a mix fresh ingredients like Scotch Bonnet peppers, onions, ginger, scallions, allspice, garlic, thyme, among other ingredients. The flavorful marinade is slathered all over chicken, beef, pork, fish, or vegetables, then they're cooked over an open flame to perfection. For this recipe, I simmered my collard greens in a broth seasoned with a dry jerk seasoning and a touch of orange juice for sweetness. This seasoning is pretty much good on everything.
INGREDIENTS
1 yellow onion ($0.32)
1 clove garlic ($0.16)
1 Tbsp cooking oil ($0.04)
2 tsp jerk seasoning ($0.20)
1/2 cup orange juice ($0.52)
3 cups chicken broth ($0.36)
1 lb. chopped collard greens ($2.50)
INSTRUCTIONS
Slice the onion and mince the garlic. Add the onion, garlic, and cooking oil to a large pot. Sauté the onion and garlic over medium heat until the onions are soft and translucent (about 5 minutes).
Add the jerk seasoning, orange juice, chicken broth, and collard greens to the pot. Stir to combine. Place a lid on the pot, turn the heat up to medium-high, and allow the broth to come up to a boil.
Once boiling, turn the heat down to medium-low and let the collard greens simmer, stirring occasionally, until they are tender (about 30 minutes, or to your liking). Keep the lid in place when not stirring. Serve hot.