Pumpkin Pie Bombs are a really fun and easy-to-make fall treat. Creamy Pumpkin pie filling wrapped in crescent rolls with crunchy cinnamon sugar coating – a delicious twist on classic pumpkin pie!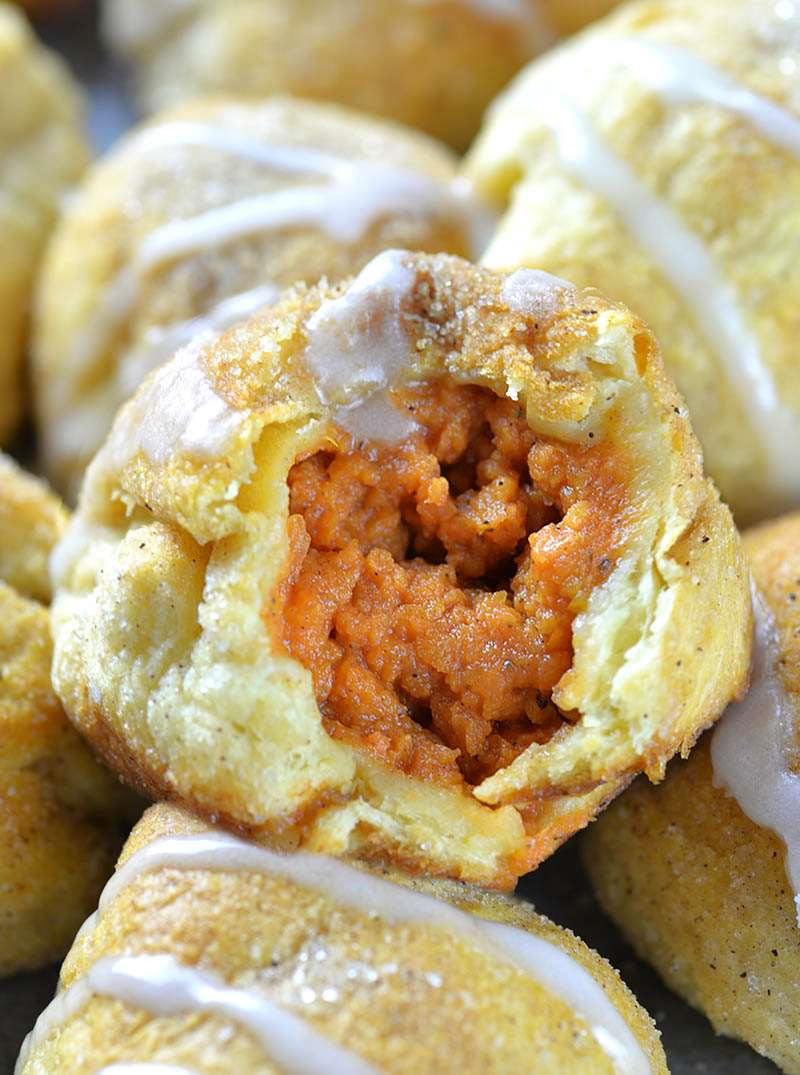 AD
Pumpkin Pie Bombs
By the way, are you tired making the same classic pumpkin pie over and over again every single year?! Maybe you should try these Pumpkin Pie Bombs instead!!! They are really delicious and so addictive, too!
Last year I made Caramel Apple Pie Bombs and they were insanely GOOD! Those Snickerdoodle crescent rolls loaded with apple pie filling and caramel … WOW!!! And I'm drooling right now when I remember how yummy these bombs were!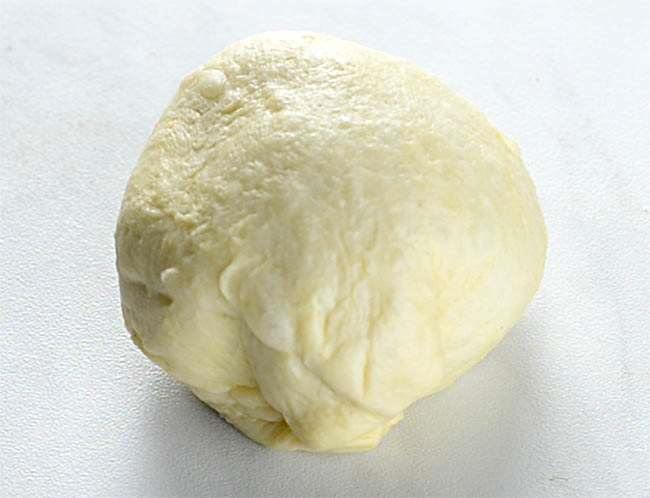 And so I thought, if they were great with apple pie filling why not try to make a new version with pumpkin pie filling?! After only half an hour my Pumpkin Pie Bombs were born.
Yes, you'll need just 30 minutes for this yummy treat. This recipe uses canned crescent roll dough and the filling is super simple to make. Just stir together pumpkin puree, cream cheese, egg yolk, sugar and spices and the pumpkin filling is ready to use. Wrap the dough around the filling, roll in cinnamon sugar and bake 10-15 minutes.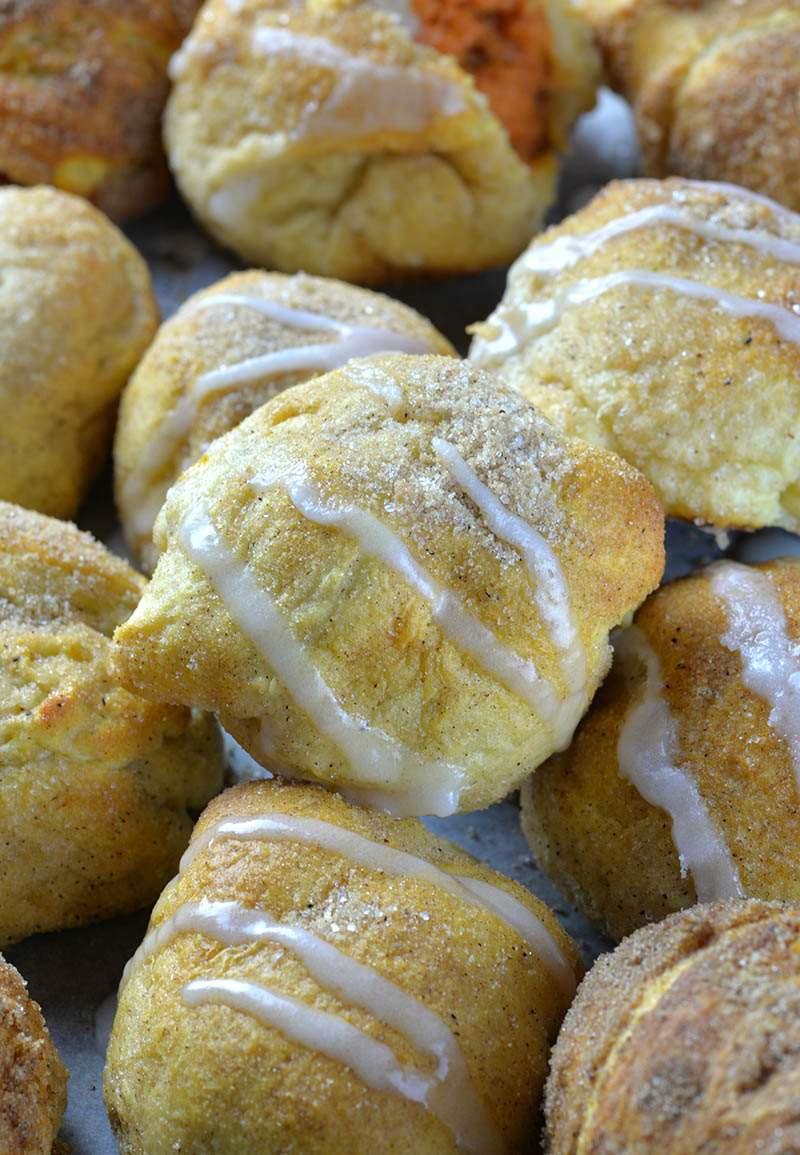 And you can drizzle these spicy little bombs with sugar icing, but they are sweet and tasty enough even without that.
Pumpkin Pie Bombs are delicious dessert for fall, and also a great snack or even breakfast since they are made with crescent rolls.
Ingredients
1 (8 oz.) tube of crescent rolls
Pumpkin Pie filling:
3/4 cup pumpkin puree (place pumpkin puree on several layers of paper towel, wrap and press to soak excess moisture)
2 oz. cream cheese-slightly softened
2 tablespoons packed light-brown sugar
3/4 teaspoon ground cinnamon
2 tablespoons granulated sugar
1/4 teaspoon ground ginger
1/4 teaspoon of nutmeg
1/8 teaspoon all spice
1 egg yolk
1/2 teaspoon vanilla extract
For Coating:
1 Tablespoon unsalted butter-melted
½ cup sugar
½ teaspoon cinnamon
Icing:
1/3 cup powdered sugar
2 teaspoon milk- or more to reach desired consistency
---
Instructions
Preheat oven to 375 F and line large baking sheet with parchment paper, set aside.
To make the pumpkin pie filling in a bowl stir together cream cheese, granulated sugar and brown sugar to blend evenly. Now, add reduced pumpkin puree to cream cheese mixture along with cinnamon, ginger, nutmeg and allspice, stir well. Stir in egg yolk and vanilla extract until smooth and evenly combined, too.
Then, unroll the crescent roll dough and separate into 4 rectangles. Seal the perforation between the triangles and cut each rectangle in half to make 8 squares.
Drop about 1 ½- 2 tablespoon of filling in the center of each square of a dough. Pick up the corner of the dough and pinch them together. Seal all sides and roll it gently between your palms to make the ball.
In a bowl combine ½ cup of granulated sugar and ½ teaspoon cinnamon, set aside.
Finally, brush each ball with melted butter and roll in cinnamon sugar mixture. Arrange the bombs (with sealed side down) onto baking sheet leaving 2 inch space apart. Bake 11- 15 minutes until the bombs get nice golden brown color.
To make the glaze stir together powdered sugar and milk, a teaspoon at the time until you get desired consistency. Drizzle over the bombs and serve.
Enjoi