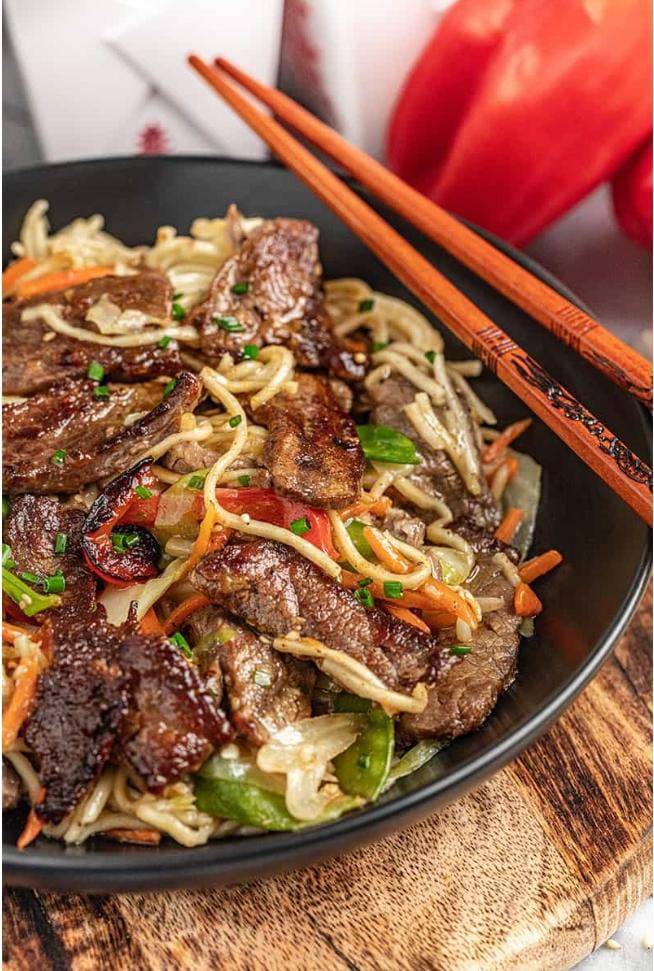 INGREDIENTS
1/2 cup chicken broth or beef broth
1/2 cup oyster sauce
4 tablespoons soy sauce
2 tablespoons freshly minced ginger
2 tablespoons minced garlic
1 tablespoon cornstarch
1 teaspoon sesame oil
Beef Lo Mein
16 ounces lo mein noodles
1 tablespoon sesame oil
2 pounds flank steak, skirt steak, or flap steak cut against the grain into 1 inch strips
2 teaspoon kosher salt
1-2 teaspoons black pepper based on your preference
2 cups snow peas
1 cups carrot cut into matchsticks or shredded
1 cup bean sprouts
1 red bell pepper , thinly sliced
1/2 head green cabbage shredded or thinly sliced
1/2 cup sliced green onion
INSTRUCTIONS
In a small bowl, make the sauce by whisking together chicken broth, oyster sauce, soy sauce, ginger, garlic, cornstarch, and sesame oil until well combined.
Cook lo mein noodles according to package directions.
Meanwhile, heat sesame oil in a large skillet over medium high heat. Add beef into skillet and season with salt and pepper. Cook until beef is browned, about 4- 5 minutes.
Add in peas, carrots, bean sprouts, red bell pepper, and cabbage and cook until veggies are tender and the beef is completely cooked through, about 5 to 7 minutes.
Pour sauce over veggies and let cook 2 to 3 minutes, stirring constantly.
Add in cooked noodles and toss to combine. Garnish with sliced green onion.