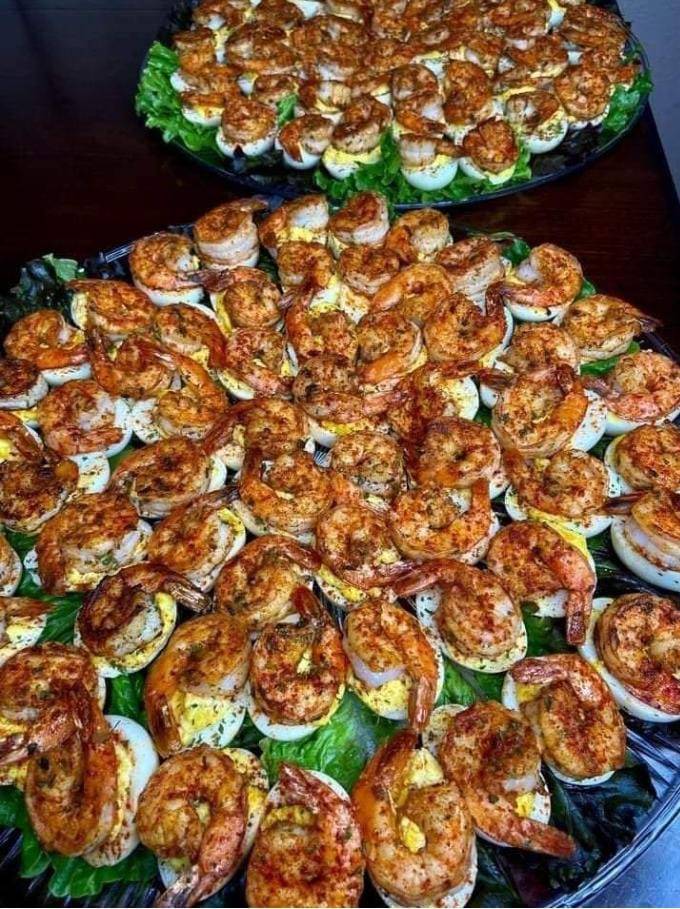 Ingredients
9 hard-boiled eggs, peeled
1/3 cup mayonnaise
1/3 cup sweet relish
2 teaspoons yellow mustard
1/4 teaspoon kosher salt, plus more to taste
1/4 teaspoon freshly ground black pepper
Smoked paprika, for sprinkling
18 medium shrimp, peeled and deveined
2 tablespoons unsalted butter
Instructions
2 teaspoons Cajun or Creole seasoning, such as Tony Chacheres (note that some brands of seasoning contain more salt than others)
Cut each egg in half lengthwise. Remove the yolks and transfer them to a medium bowl. Place the egg whites on a serving platter and set aside.
Mash the yolks with a fork. Stir in the mayonnaise, relish, mustard, salt and pepper. Scoop an equal amount into each egg white half with a small spoon. Sprinkle smoked paprika on top of each deviled egg. Cover and refrigerate while you prepare the shrimp.
Give the shrimp a quick rinse in a colander under running water, then drain. Pat the shrimp dry with a paper towel, then transfer to another medium bowl. Sprinkle with the Cajun seasoning and toss to coat.
Melt the butter in a large nonstick skillet over medium heat until the butter starts to shimmer. Swirl the butter around so that it coats the bottom of the skillet evenly.
Add the shrimp in a single layer and cook for 45 seconds. Flip and cook until the shrimp are pink and cooked through, 45 to 60 seconds. Remove the shrimp from the heat and set aside.
When ready to serve, top each deviled egg with 1 shrimp.