Blackberry cobbler is the perfect recipe for any hot summer day. Perfectly sweet and tart, with a golden biscuit topping, it's the ultimate easy dessert. Top with a frosty scoop of vanilla bean ice cream and you'll be in 7th heaven!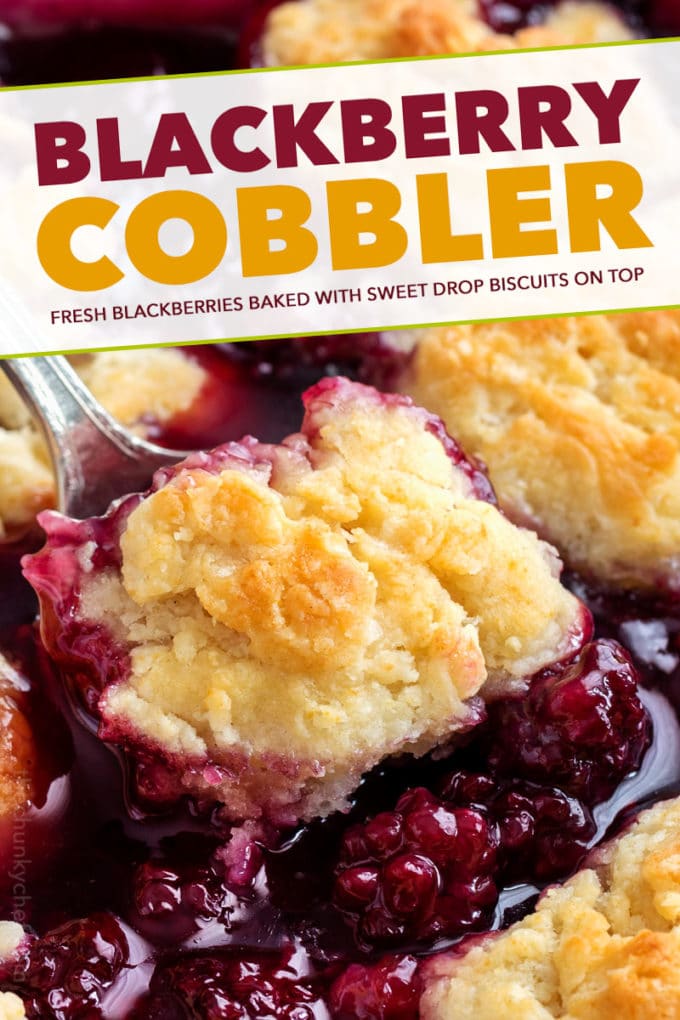 Blackberry Cobbler
As we head into summer, so many wonderful types of produce are at their peak, with blackberries being among them. Plump, juicy, and the perfect mixture of sweet and tart, these berries are amazing on their own (or whipped up into a blackberry mojito!), but truly are at their best when baked into a homemade blackberry cobbler.
CLASSIC, OLD-FASHIONED DESSERT
What exactly is a blackberry cobbler? Everyone has their own idea of what a cobbler is. Traditionally speaking though, cobbler is a baked fruit dish that's topped with a biscuit-like top. When baked, the biscuits create a "cobbled" look, similar to a cobblestone street.
Some versions can have a cake-like topping, though I prefer to stick with the traditional method for this blackberry cobbler recipe.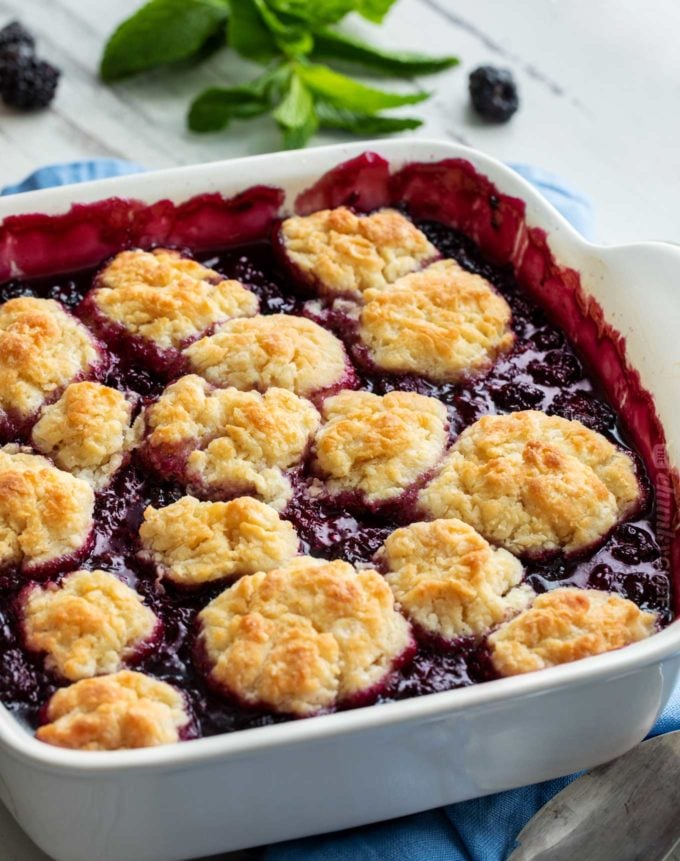 HOW TO MAKE BLACKBERRY COBBLER
You won't believe how easy it is to make such an iconic dessert!
Combine berries, cornstarch, sugar & a bit of water. Simmer for a few minutes until thickened.
Combine topping ingredients and drop over the blackberry mixture.
Bake and enjoy!
This easy summer blackberry cobbler is made with fresh berries and a sweet biscuit-like topping!
______________________________________________________________
Ingredients
COBBLER
▢24 oz fresh blackberries
▢1 cup granulated sugar
▢1/4 tsp ground cinnamon (optional but recommended)
▢3 Tbsp cornstarch
▢3/4 cup water
TOPPING
▢1 1/2 cups all-purpose flour
▢1 Tbsp granulated sugar
▢1 1/2 tsp baking powder
▢1/2 tsp kosher salt
▢1/2 cup cold butter, grated or finely cubed
▢1/3 – 1/2 cup cold buttermilk
Instructions
Grease an 8 inch square baking dish.
In a large saucepan, combine the blackberries, sugar, and cinnamon. Cook and stir until mixture comes to a boil.
Combine cornstarch and water until smooth; stir into fruit mixture. Bring to a boil; cook and stir for 2-5 minutes or until thickened.
Pour into prepared baking dish.
For topping, in a small bowl, combine the flour, sugar, baking powder and salt. Cut in butter using a pastry blender or two forks until mixture resembles coarse crumbs.
Stir in buttermilk just until moistened. Drop by tablespoonfuls onto hot berry mixture.
Bake, uncovered, at 350F for 30-35 minutes or until filling is bubbly and topping is golden brown. Serve warm, with whipped topping or ice cream if desired.