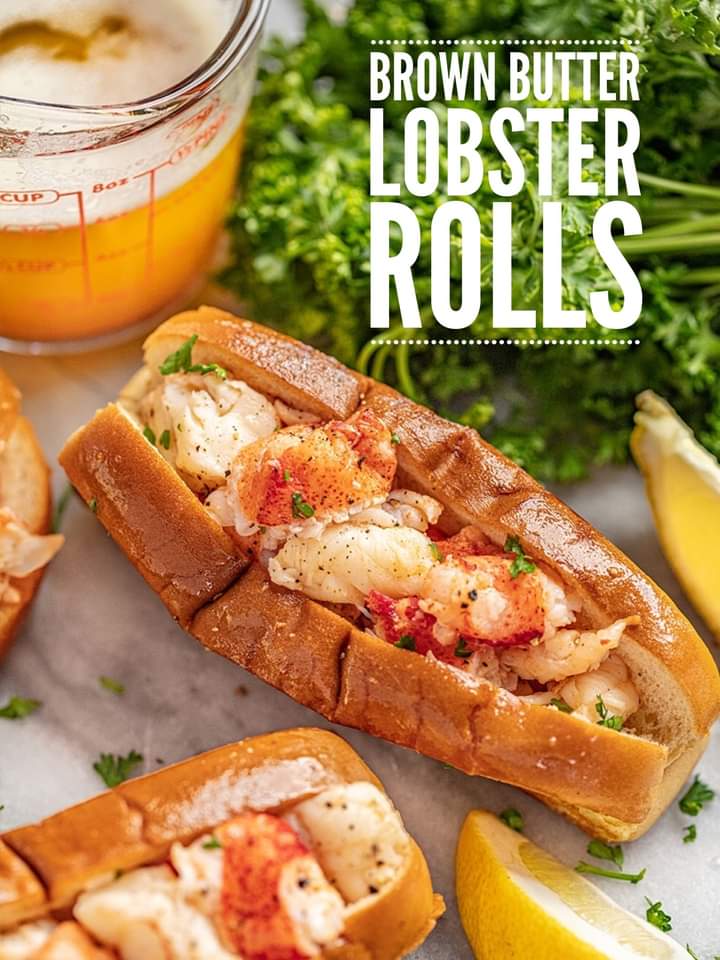 Lobster meat is drowned in browned butter and stuffed into a New England style bun for a simple, but delicious twist on this East Coast classic. You are going to love Brown Butter Lobster Rolls!
brown butter lobster rolls.
The trees are bare, it is cold and snowy, and the fire is roaring in the fireplace. We love winter, really, but there is a part of us already dreaming about warmer weather. While the air is so dry and cold we often reminiscence over our summers traveling, and there's nothing quite like a summer spent on the East Coast.
The food alone is one of our favorite things about visiting the East Coast. Cheesesteaks, clam chowder, and lobster rolls…mmmmm! We can't get enough of the lobster rolls. So sorry, we're drooling. You should not have to travel so far for this amazing food though, so we are bringing the East Coast to you with our brown butter lobster rolls. You're not going to want to skip this one!
DO I REALLY NEED TO BROWN THE BUTTER?Browned butter adds a nutty flavor that is to die for when combined with lobster. While you certainly don't have to add more flavor to your lobster roll, we highly recommend
ROLL OPTIONS:The classic choice for a lobster roll is a split top hot dog bun, though it can be difficult to come across those if you don't live in New England. Regular hot dog buns are also acceptable as well as a simple hoagie roll. Whichever you decide, it's going to be delicious!
SHOULD I USE LOBSTER CLAW OR TAIL MEAT FOR BROWN BUTTER LOBSTER ROLLS?We find that the best lobster roll has meat from the whole lobster: claw, tail, and even meat from the knuckle! Tail meat is firmer and more fibrous, where claw meat has a sweeter taste and is deliciously tender. The combination of the two is what makes this so amazing! If you need help cooking lobster tails, it's a simple process that will have your lobster meat ready in 10 minutes! We also have a great tutorial for how to cook a whole live lobster.
brown butter lobster roll

INGREDIENTS
1/2 cup unsalted butter
4 New England-Style Split-Top Buns or hoagies
1 pound cooked lobster meat (tail or claw pieces) chopped into one-inch pieces
1/4 teaspoon salt
1/4 teaspoon black pepper
2 tablespoons lemon juice

INSTRUCTIONS
Melt butter in a small saucepan over medium heat. Brush some of the brown butter on the outsides of the split-top buns. Toast buns in a separate skillet over medium to medium-high heat until lightly brown and toasted.
Meanwhile, continue cooking butter over medium heat until butter foams, giving the pan a good occasional swirl. Once butter foams keep a close eye on it. The color will change from yellow to tan and then to brown. Once it reaches brown, remove it from the heat immediately and add in lobster. Toss to coat. Lobster should warm up from the residual heat from the pan.
Season lobster with salt and pepper to taste. Squeeze lemon juice over the top and toss to combine.
Spoon lobster into toasted buns. Serve immediately.
Nutrition
Serving: 1sandwich | Calories: 411kcal | Carbohydrates: 22g | Protein: 23g | Fat: 25g | Saturated Fat: 15g | Cholesterol: 205mg | Sodium: 841mg | Potassium: 281mg | Fiber: 1g | Sugar: 3g | Vitamin A: 709IU | Vitamin C: 3mg | Calcium: 176mg | Iron: 2mg