This simple, seasonal seafood dish comes from Mamma Agata's, a culinary school on Italy's Amalfi Coast. Before the liquid is added, each element—from the shrimp in their shells to buttery potatoes—is seared in olive oil to speed up the braise and intensify its flavor.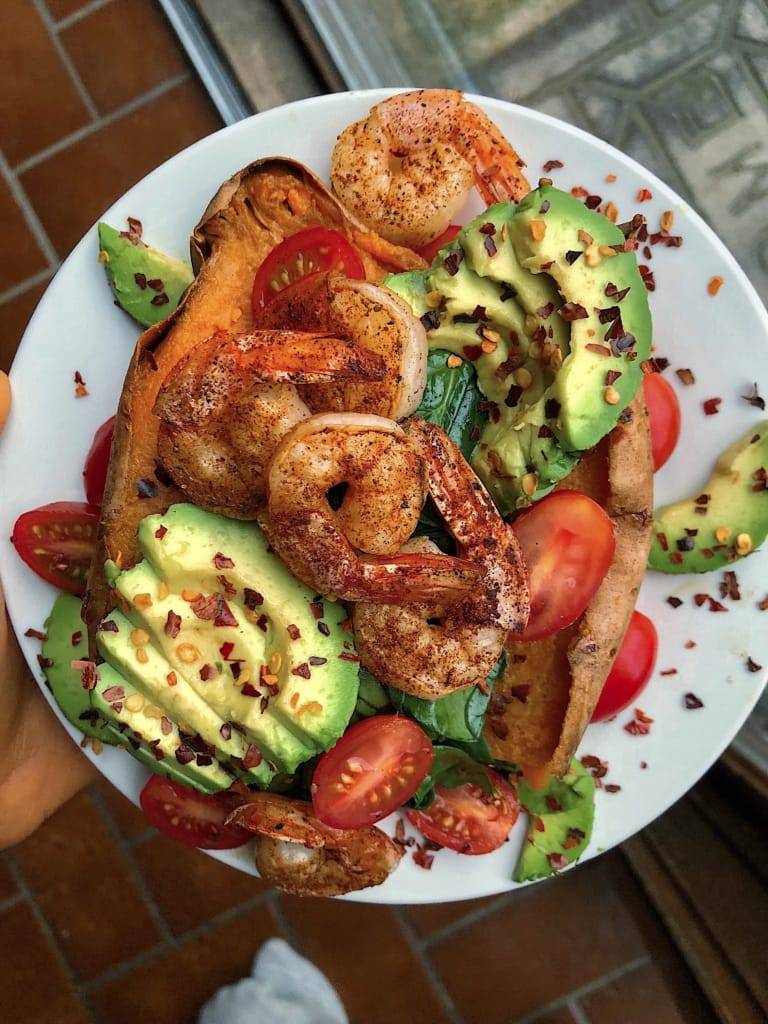 Ingredients
1 pound head-on jumbo shrimp
6 tablespoon extra-virgin olive oil, divided
2 medium shallots, minced (about 1/3 cup)
1 1/2 teaspoon seeded minced serrano chile (about 1 medium)
2 teaspoons dried oregano
13 ounces baby Yukon Gold potatoes, quartered (about 2 cups)
1 garlic clove, thinly sliced (about 1 teaspoon)
1/2 cup white wine
3 cups ripe cherry tomatoes (about 1 pound)
1 1/4 teaspoon kosher salt
1/4 teaspoon ground white pepper
1/2 cup torn fresh basil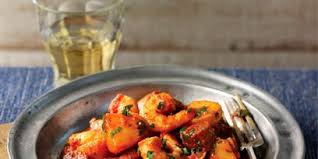 Directions
Step 1Using a knife, make a 1/4-inch-deep cut along the back of each shrimp shell from head to tail. Leave shell and head intact. Using a small moistened paper towel and a paring knife, remove and discard the vein. Pat shrimp dry, and set aside.
Step 2Heat 1/4 cup oil in a very large skillet over medium-high until shimmering and very hot. Add shrimp, and sear until shells are scorched, about 1 minute. Transfer shrimp to a plate.
Step 3Reduce heat to medium. Add shallots, chile, and oregano, and sauté until shallots are sizzling, about 30 seconds. Add potatoes and garlic, cover, and cook, shaking pan often, until edges of potatoes begin to brown, about 5 minutes. Uncover, add wine, and cook, stirring occasionally, until liquid is nearly evaporated, 5 to 6 minutes.
Step 4Add tomatoes, cover, and cook until tomatoes start to split and release their juices and potatoes are tender, about 8 minutes. Add shrimp, and cook, turning occasionally, until shrimp are cooked through and tomatoes are soft, 2 to 3 minutes. Season with salt and white pepper; stir in basil. Divide among 4 shallow bowls, drizzle with remaining 2 tablespoons oil, and serve.